This point in time is quite different than what we imagined for the year 2020. The Coronavirus has significantly impacted the healthcare world. Healthcare workers are in the spotlight to deliver the infectious disease care needed by millions of people, but at the cost of elective procedures being put on hold for the past few months. Procedural services generate 60-65% of a hospital's revenue, so the financial pain has been significant. Hospitals are bleeding cash and furloughing staff while physicians' clinical practices are at a standstill.
As the Governors of each state decides when to allow elective surgeries, providers face the dilemma that the case backlog may take months to clear, and many cases may never be performed at all due to patient fear, loss of insurance or inability to pay.
To help manage the backlog while easing patient and staff fears about safety, a readiness protocol checklist is needed to resume elective procedures post COVID-19. Surgical Directions, after a thorough review of government specifications and available clinical literature on emerging best practices, has developed a protocol checklist. This checklist is meant to be a guideline for prioritizing, scheduling, and managing the backlog of elective cases in a COVID-safe environment. The checklist includes guidance on:
Assembling a multi-disciplinary leadership group. The mission of this "COVID Operations Group" (COG) is to restart elective surgery in a safe and patient and staff-friendly environment. The COG's membership should include representatives from surgery, anesthesia, nursing and senior administration.
Prioritizing elective cases

. Build and actively maintain a case list that reflects unique institutional challenges as well as patient comorbidities and procedure-specific issues. It is essential to work with surgeons and their offices to determine the cases they feel have priority and should be done as soon as possible.

Scheduling and managing the cases.

Establish a Collaborative Daily Huddle that will use the prioritized list of backlogged elective cases to build and actively manage the daily schedule and the flow of patients across operating rooms. Implement a system of safety protocols to prepare patients for their procedures. Under the sponsorship and oversight of the COG, the Patient Preparation and Scheduling Team should include representatives from anesthesia, pre-admission testing, scheduling, admitting, surgeon office personnel, and day-of-surgery representatives. They should be responsible for building a streamlined coordinated patient-centric process.

Establishing new day-of-surgery procedures.

It is important to have a clear patient communication process in place for the day of surgery. The patient and their families must know they are going to be in a safe environment to be comfortable going forward with their surgery or procedure. Given the media coverage about COVID-19, patients will be skeptical about coming to the hospital, or ambulatory surgery center. On the day of surgery, patients should already know to expect different entrances, COVID testing, a limit on family members, etc. Patients should also be told to expect triage questions before entering the facility. One example of a triage questionnaire is below.
COVID-19 Day-of-Surgery Patient Questionnaire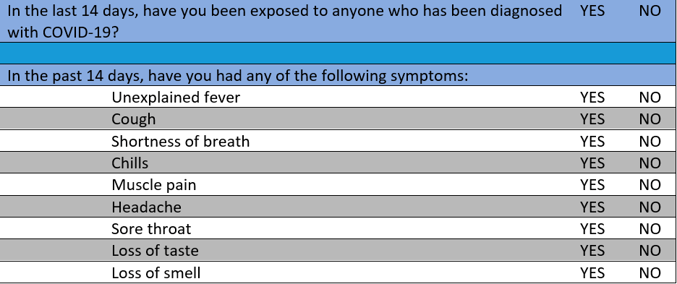 Surgical Directions can assist your hospital, ASC, or physician office with implementing the detailed protocol checklist to work through your case backlog. For more information, contact info@surgicaldirections.com.
This blog was co-authored by Patricia May, Surgical Directions Director of Perioperative Nursing.