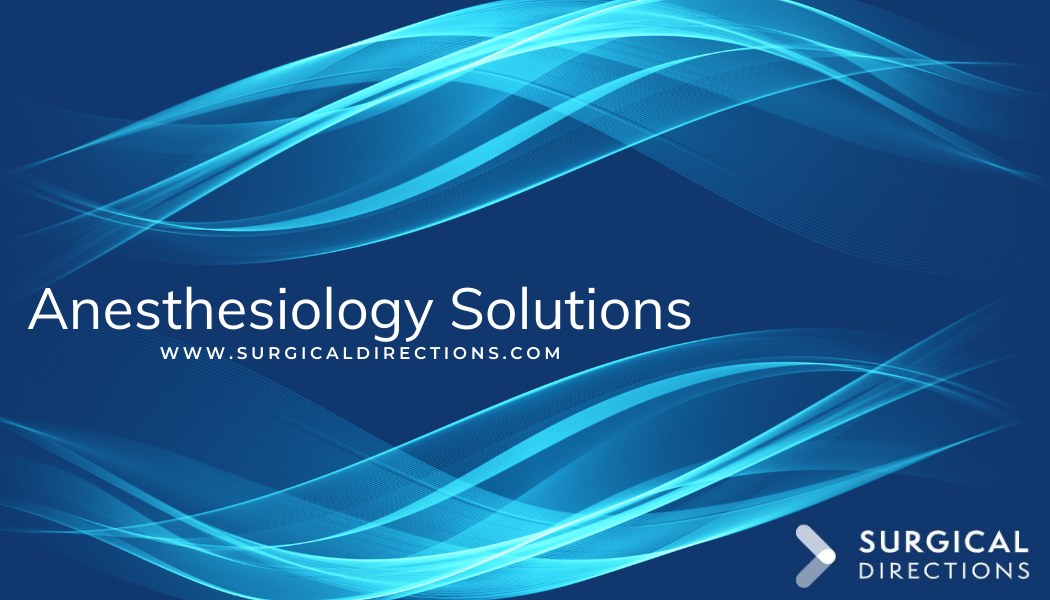 New Product Launch: Surgical Directions Introduces Anesthesiology Solutions Service Line

Hospitals and Anesthesiology practices can maximize their value and drive sustainable change with Surgical Directions Comprehensive Anesthesiology Solutions.
As healthcare evolves, hospitals and providers are constantly searching for ways to make their services more efficient and agile. This is particularly true in Anesthesiology services, which now faces a landscape of obstacles that leave many departments understaffed and underperforming. Surgical Directions can help organizations navigate this challenging environment by maximizing the operational and fiscal performance of Anesthesiology services.
The expertise and experience that the multidisciplinary team at Surgical Directions brings to the table can help create lasting results:
Fair and equitable anesthesiology stipend development
Staffing analysis and schedule development for improved productivity
Staffing market analysis and compensation planning
Anesthesiology leadership mentoring and development
Contract moderation and Fair Market Value analysis
Transition to employment and other Physician Service Agreements
Revenue cycle management and charge capture processes
Interim anesthesia management, both medical director and business leadership
Surgical Directions Comprehensive Anesthesiology Solutions combines years of expertise and thought leadership into a customized solution that will create data-driven results. Learn more here
About Surgical Directions
Surgical Directions is a specialty healthcare solutions firm composed of professionals with deep experience in perioperative services working side-by-side with clients to achieve the absolute greatest impact and sustainable performance possible. We have time-tested methodologies designed to drive lasting change in surgical services' operational, clinical and financial performance. Surgical Directions' unique peer-to-peer model provides our clients the opportunity to work in partnership with consultants who specialize in their field – physician to physician, nurse to nurse, and executive to executive. This process promotes greater buy-in across our clients' organizations – and a culture that fosters continuous improvements and lasting change. From assessment to implementation to interim placements or actionable insights, Surgical Directions is more than a solutions firm. We're a collaborative partner dedicated to your success.