One of the most common surgeries performed in the United States is a Cesarean Section (C-section). Although it is a common procedure, it is also one of the riskiest. The recovery of a C-section can take up to 4 to 6 weeks and even longer depending on complications. As the Cesarean delivery rate climbs in the United States, there is a motivation now more than ever to get Cesarean patient's to recovery faster. The concept of Enhanced Recovery After Cesarean Section (ERACS) was adopted to help improve a mother's recovery after a surgical delivery. ERACS programs have been proven to be very successful in improving the patients post-operative experience through early ambulation, early postoperative resumption of nutrition, and decreased use of opioid consumption. (Lee, Lee, Huang, Hunt, & Hedderson, 2018)
ERACS is a multi-modal perioperative care pathway designed by using research based best practices to envelop every phase of the patient's surgical journey. A key component of an ERACS program is collaboration among anesthesiology, obstetricians, maternal fetal medicine providers and nursing to better prepare the patient for surgery, hospitalization and discharge. Optimization of multiple aspects care lead to increased patient satisfaction, early skin-to-skin with newborns and quality of care.
The best strategy to initiate a program is to develop clinical care pathways for the preoperative, intraoperative and postoperative periods. A team composed of physicians and nurses should design standardized workflow processes that guide healthcare decisions.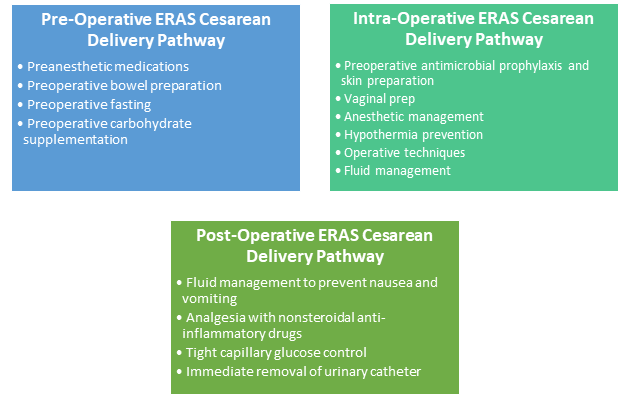 Early patient participation should be encouraged and is best achieved by enrolling the patient at the time the cesarean section is scheduled. Many electronic medical records (EMR's) and add-on software programs automate patient engagement and provide information to keep both the patient and caregiver on track. A shared-decision making model focused on patient education allows the patient to be involved throughout each aspect of care. Patient education should include management of any existing co-morbidities, information on the surgical procedure including gentle C-section strategies to improve the patient experience, pain management options, newborn care and discharge planning.
A well-choreographed Enhanced Recovery After Cesarean Section program not only improves patient outcomes and satisfaction, but also leads to improved staff and physician satisfaction. Delivering high-quality patient care, autonomy over day-to-day work activities and shared governance are major contributors to professional satisfaction. Implementation of successful programs requires collaboration across the spectrum of perinatal care and should be strongly encouraged within healthcare organizations.
Surgical Directions offers many ways to support your ERACS program. Our team of experts can help your OB Services team improve both patient and staff outcomes and the bottom line. Please contact us at info@surgicaldirections.com to discuss how we can help you.
Lee, K. L., Lee, D. C., Huang, M., Hunt, E. J., & Hedderson, M. M. (2018, May). Enhanced Recovery after Surgery Implementation in a Cesarean Section Population in an Integrated Healthcare System. Obstetrics and Gynecology, pp. Volume 131 - Issue - p 29S doi: 10.1097/01.AOG.0000532937.11462.20.