In many organizations, elective cesarean sections take a back seat in the operating room. Cases are fit into the OR schedule, anesthesia and OR staff are pulled, or the operating room schedule may be delayed. On time starts are often not monitored and delay codes are not tracked.
Well-run hospital L&D units help drive patient loyalty as well was hospital growth and profitability. However, poorly run L&D departments often create OB retention problems, referral issues, and patient dissatisfaction. The reason is poorly run departments are less able to handle the variability in the needs and timing of the L&D patients, thus leading to difficulties with staffing, schedule management, material availability, bed flow, referrals, access, and patient throughput.
As hospitals evaluate value-based care and operational transformation, a number of questions surface regarding the impact on the main operating room by the L&D service:
Are metrics available to monitor key elements of L&D?
Can predictive analytics help with staffing?
Should there be a data driven block schedule?
Is it feasible for scheduled C-section patients to be optimized through PAT?
Does the non-main operating room staff have the competencies to perform C-section cases?
Are patient care quality measures in place for pre-operative skin hygiene compliance, prophylactic antibiotics, DVT prophylaxis, patient education, and discharge planning?
Is there interdisciplinary collaboration for quality, management and culture of safety?
How should elective C-section cases be scheduled?
The good news is these problems are all solvable! Establishing the following drivers for success will answer organizational questions and drive clinical, operational and financial performance:
Develop a Multidisciplinary Governance structure to take a leadership role in the change transformation necessary to establish best practice standards within labor and delivery. Changes in workflow, block scheduling, pre-admission testing and other areas are determined through a collaborative approach and based on policy and data measures.
Define Data-Driven Decision-Making Elements to effectively monitor performance indicators. Provider scorecards and department dashboards are an interactive process to achieve sustainable organizational changes and operational improvements.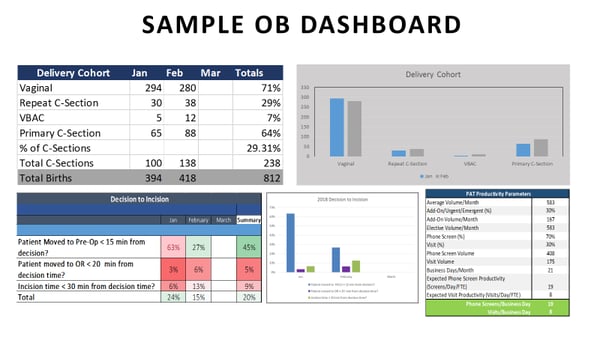 Establish a Labor and Delivery Optimization Performance Improvement team to re-engineer scheduling and pre-operative processes to increase efficiency and safety by effectively preparing patients for surgery. The PIT team should begin by developing processes to evaluate the following:
Elective case scheduling and optimal room use
Pathway & protocols for elective scheduling of cesarean sections Pathway for primary vs repeat cesarean sections
Pathway for urgent/emergent – hemorrhaging (Main Operating Room or Labor and Delivery OR)
Criteria to induce labor
Staff productivity analysis for L&D OR
Developing a physician led governance and staff led performance improvement team will improve the effectiveness and efficiency of the department as well as reduce operating costs and increase revenue. This will be achieved by:
Reducing case delays in the operating room and labor and delivery unit
Improving labor and delivery department capacity for elective procedures
Improving access and utilization
Improving patient clinical outcomes
Working in a collaborative, interactive manner with physicians, nurses, and administrative members to remove operational misalignment between surgical services and L&D services will increase engagement and drive value-based care.