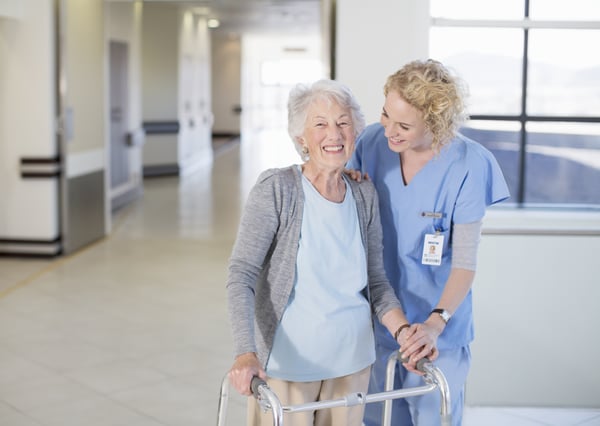 ERAS programs are focused on improving surgical outcomes and enhancing the patient experience before, during and after surgery. A multidisciplinary team of surgeons, anesthesiologists, nurses and other healthcare professionals work collaboratively to implement highly effective, evidence-based interventions and protocols that accelerate recovery following surgery.
Phase I – Before Surgery – A Well Designed Pre-Anesthesia Testing Program
There are numerous advantages to having timely surgical optimization for patients. Proactive management of co- morbidities decreases re-admission rates and post-surgical complications, ultimately improving clinical outcomes. Completed charts and patient workups improves surgeon, staff, anesthesia, and patient satisfaction.
A well-designed PAT clinic can improve patient outcomes, reduce delays, reduce same-day cancellations, and reduce length of stay. The clinic setting can also be used as an opportunity to better educate patients and their families regarding their upcoming surgeries. We recommend that case management and Discharge Planning be involved with all anticipated admissions. Setting expectations regarding discharge and arranging after-care can be a valuable means to reduce patient length of stay.
The first phase of the patient's surgical experience begins at the point of scheduling. Early awareness, monitoring, and prompt intervention is key. The pre-admission process includes registration, case scheduling, ordering and obtaining preoperative tests, pre-admission testing assessment, chart review, patient preop phone call and admission on the day of procedure. A well-designed pre-anesthesia testing (PAT) clinic is the means to coordinate care workflow and pre-habilitation activities:
Activation of evidence-based pathways
ERAS education (bathing with chlorohexidine, nutrition, physical activity, smoking cessation, home preparation, mouth care, deep breathing, pain control, etc.)
Any necessary lab work and results management
Screening for additional clearances (Pulmonary, Cardiac, etc.)
NPO guidelines (carbohydrate loading)
Protocols for the pre-operative management of patient co-morbidities such as diabetes, hypertension, and COPD
Pre-operative medication management for patients taking anti-coagulants, beta blockers, and other surgery-sensitive medications
Discharge planning processes
The PAT clinic can better educate patients and their families as well as promote comprehensive awareness of expectations. Proactive patient management has shown success in post-operative outcomes.
Phase II – Inpatient - Decrease Hospital Stay by 30% & Reduce Complications up to 50%
The inpatient pre-surgical plan begins in pre-operative location, frequently with an antiseptic nasal swab and additional chlorohexidine bath. Multimodal pain control protocols will be introduced by the anesthesia team and maintained throughout the perioperative experience. This multimodal approach uses 2 or more medications with different pain control mechanism, while using less narcotics. Optimal pain control facilitates recovery activities of eating, drinking, walking, optimal bowl function and taking deep breaths.
Right level of care
Integrated pain management
Prevention of complications
All hospital team members must be alerted if barriers arise that could lead to an increased length of stay.
Phase III – After Discharge – Continue to Track
Discharge planning to the appropriate location begins early in the surgical journey. Optimally the patient can return home, with knowledgeable caregivers and rehabilitation for rapid return to function. For patients admitted to post-acute facilities, it's important to establish methods to track the patient post-discharge location and develop workflows to understand surgeon/hospitalist/case management patterns and preferences.
In the event a re-admission occurs, its beneficial to track internal and alternate location re-admits. Partner with post-acute providers in your community for success and establish real time alerts from both the ED and admissions. Early knowledge of re-admits will help with forecasting reimbursement.
Putting it All Together
Enhanced recovery after surgery programs have consistently shown improvements in patient satisfaction, outcomes and reduction in cost of care. Patients experience less pain, recover faster and sooner and with less complications. Successful enhanced recovery programs follow a standardized multidisciplinary approach to improve the patients perioperative experience and results.
ERAS Society (Society, 2018) http://erassociety.org/
Be sure to visit our website for more great information on improving the patient experience and your bottom line!
Don't forget to subscribe to our blog for more great content!