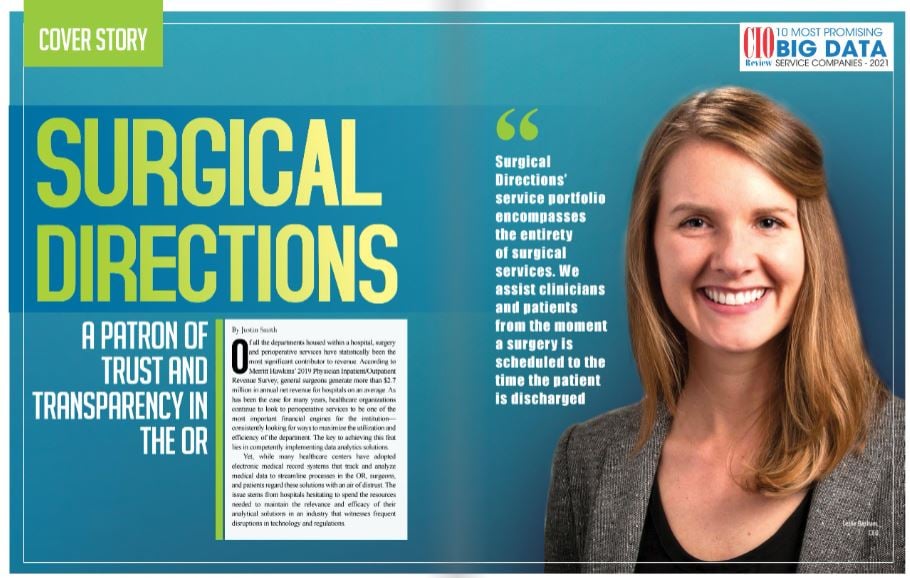 Surgical Directions
A Patron of Trust and Transparency in the OR
Of all the departments housed within a hospital, surgery and perioperative services have statistically been the most significant contributor to revenue. According to Merritt Hawkins' 2019 Physician Inpatient/Outpatient Revenue Survey, general surgeons generate more than $2.7 million in annual net revenue for hospitals on an average. As has been the case for many years, healthcare organizations continue to look to perioperative services to be one of the most important financial engines for the institution—consistently looking for ways to maximize the utilization and efficiency of the department. The key to achieving this feat lies in competently implementing data analytics solutions.
Yet, while many healthcare centers have adopted electronic medical record systems that track and analyze medical data to streamline processes in the OR, surgeons, and patients regard these solutions with an air of distrust. The issue stems from hospitals hesitating to spend the resources needed to maintain the relevance and efficacy of their analytical solutions in an industry that witnesses frequent disruptions in technology and regulations.
These stark albeit unaddressed issues laid the groundwork in creating Surgical Directions—a firm that ventures beyond mere consulting and ensures that clients have the best practices in place to support their consistent growth. "We provide our clients with a standardized set of definitions and datasets such that they can improve transparency in their data analytics and perioperative processes. This is the first issue that we help clients tackle," says Mark O'Connor, Chief Growth Officer at Surgical Directions.
Founded by physicians, nursing executives, business strategists, and analysts in the healthcare industry, Surgical Directions embarked on a journey to help hospitals achieve the highest possible performance in their surgical and perioperative services. "Surgical Directions' service portfolio encompasses the entirety of surgical services. We assist clinicians and patients from the moment a surgery is scheduled to the time the patient is discharged," continues O'Connor.
Merlin--Designed to Help Clinicians Tackle Analytics
Surgical Directions' experienced practitioners tackle critical operational problems and are committed to achieving the client's target financial, operational, and clinical outcomes. The company has successfully helped more than 400 healthcare clients nationwide increase patient access, optimize governance, reduce cost, and, most importantly, improve patient care.
Although many organizations focus on improving the efficiency of infusion centers, discharge planning, emergency departments, and more, Surgical Directions' priority has remained on expediting and streamlining processes in the operation room (OR). The company's service portfolio includes perioperative consulting, anesthesia services, advanced analytics, interim leadership staffing, OB services, and value-based management. Now, the organization has designed a new solution called Merlin to plug the gaps in data operations and surgical services, which will ensure maximum OR performance. "We chose the name Merlin to showcase how the solution offers a comprehensive overview in data analytics akin to how the bird of its namesake has a clear view of everything below it when soaring high above," quips Kartik Bhatt, Engagement Manager at Surgical Directions. The Merlin platform is built from the ground up by professionals and innovators who possess extensive knowledge in the perioperative space. The biggest differentiator of Merlin is the solution's capability to sustain the performance drive that picks up in the strategy phase but often fizzles out during the project's execution. "One of the factors that spurred the team to create Merlin was to address the common issue of sustaining momentum throughout a project's implementation," adds O'Connor. As Merlin is designed to help the customer with their consulting needs even post-engagement, it instills a sense of trust among the clientele.
Merlin's transparency is born from one of the solution's core capabilities--ensuring the tidiness of aggregated data. Since driving outcome is paramount to any organization, one of the challenges most companies face when handling big data is verifying the relevance of numerous reservoirs of information to find the vital few that help achieve this goal. Merlin tackles this issue head-on. With this proprietary tool, Surgical Directions provides hospitals and health systems with actionable data collection and analyses pertaining to location, population, services, organization size, and more. Surgical Directions' innovations eliminate the discrepancies arising from overlapping processes, dispersed data, and inefficiencies.
Optimal User-Experience Bred By a Dedicated Team
"One of the distinctive features about our team that has also led to Merlin's success is that every member has in-depth expertise in various realms of consultative services," states O'Connor. The team intimately understands the issues that hinder users from reaching peak productivity and translates this know-how into the Merlin platform's ease of use and user intuitiveness. As a people-first organization, Merlin has been designed with the end-user in mind. The platform assesses and analyzes data collected from ORs, ASCs, and other perioperative departments--such that the end-user can focus on their core operations. Additionally, the solution requires minimal investments to set up and works on a SaaS model to achieve the same goal.
To understand the end-users expectations of functionalities (during the development of Merlin), O'Connor and the Surgical Directions team reached out to clients who were engaged in consulting projects. The team used these insights to create a solution that causes minimal disruption when it's integrated into existing workflows. This lends Merlin a reputation of seamlessness seldom matched by peer organizations. "What users are looking for is a solution that enables them to quickly and accurately extract the relevant data that they need. Our close engagements with them significantly contributed while developing this system," states O'Connor. A comprehensive and well-founded grasp of operational performance data further enables organizations to drive clinical outcomes, financial performance and establish holistic relationships with clients.
Closing Gaps in Technology and Communication
Surgical Directions' work culture is laser-focused on delivering the best results--and Merlin serves as a reliable avenue to accomplish this mission. With its strategic priorities embedded in expediting processes in the operating room, the multidisciplinary team at Surgical Directions has created an effective peer-to-peer business model that bridges several communication gaps among the clientele. Since the company is steered by clinicians and healthcare workers with deep experience in the industry, it creates opportunities to work in partnership with consultants who specialize in their field – physician to physician, nurse to nurse, and executive to executive. "We're thoughtful about why, who, and in what capacity people are using our solutions. Our company identifies clients' needs, and based on that, we create unique experiences for our users," adds O'Connor. This process promotes greater buy-in across clients' organizations and creates a culture that promotes continuous improvements and lasting change.
Surgical Directions is gearing up with advanced technologies to orchestrate, guide, and navigate the changes that are taking place in today's healthcare market. Aiming to further improve Merlin's functionalities in streamlining perioperative services, the Surgical Directions team plans to hire more technical talent. Additionally, the team aspires to address issues related to human capital management such as staffing, support, supplies, and material management.
"Despite expansion, we want to stay customer-focused. We make certain that we collect feedback from our users and incorporate that information into our product development roadmap," says O'Connor. With over two decades of analytical expertise translated into solutions that provide unique and customized user recommendations, Surgical Directions is poised to set new benchmarks in processing OR performance metrics. The organization has aligned itself with the latest innovations and analytics capabilities to help leaders bring in standardized technological workflows and patient-facing clinical operations. Surgical Directions is continually working to bridge the gap between enterprise resource planning and EMRs.