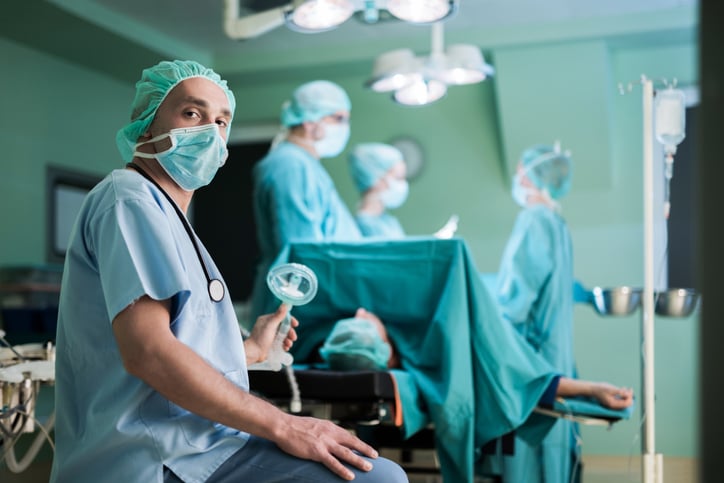 Hospitals have been struggling for years to ensure adequate anesthesia coverage, but COVID-19 may be the straw that finally broke the camel's back.
Anecdotally, the pandemic has spurred thousands of anesthesiologists and certified registered nurse anesthetists (CRNAs) to retire early, change jobs or cut back hours. There is not an adequate supply of anesthesia providers to meet the needs of hospitals and ASCs. Hospital leaders are now facing extreme challenges as they attempt to secure an adequate anesthesia workforce.
There is no single solution to the anesthesia crisis. Healthcare leaders need a multi-pronged strategy that addresses every aspect of anesthesia coverage. To get started, focus on three key initiatives:
1. Correct the mismatch between the block schedule and actual utilization
When surgical block utilization is low, anesthesiologists and CRNAs experience excessive downtime between cases. This is a waste of precious workforce resources, and it creates frustration among anesthesia providers. The solution is to create a block schedule that reflects actual utilization.
Start by capturing historical hourly utilization data for each anesthetizing location (including non-OR locations such as endoscopy and interventional radiology). Next, analyze the data to uncover actual utilization patterns for each location by hour of day and day of week. Finally, work with OR leaders to make sure the block schedule matches actual volume patterns.
More efficient block utilization will reduce the anesthesia FTEs your hospital needs to achieve full coverage. Higher utilization will also increase provider income, which will help your hospital attract and retain a steady anesthesia workforce.
2. Work with payers to balance anesthesia reimbursement
Most hospitals provide financial support to their anesthesia group — up to $100,000 per provider. In many cases, hospitals can reduce this stipend significantly by working with payers to improve anesthesia reimbursement. The key is to identify the "blended unit" required to support a financially self-sustaining anesthesia practice in your market.
The blended unit is the average per-unit anesthesia reimbursement across all payers. To calculate it, divide total anesthesia costs (including compensation, administrative costs, etc.) by the total number of anesthesia units billed. In our experience, an anesthesia group covering a typical community hospital requires a blended unit of $70 to remain financially viable.
Since government rates are largely fixed, negotiations should focus on private payers and large self-insured employers. A blended unit backed by solid data will help payers make the link between the procedural services their members need, and the level of reimbursement anesthesia providers require.
3. Create an environment of flexibility, predictability, and opportunity
While compensation is important, income potential is not enough to recruit and retain anesthesiologists and CRNAs today. Healthcare leaders need to build a practice environment that enables anesthesia providers to flourish both personally and professionally. Healthcare leaders must work to make anesthesia providers feel valued and appreciated on a daily basis.
To start, make sure providers have opportunities to grow as clinicians. Put them in charge of developing surgical home initiatives or creating enhanced recovery after surgery (ERAS) protocols. Give them leadership roles in OR management and allow CRNAs to practice at the top of their license.
In addition, make sure providers have a predictable work schedule. In plain terms, days they miss a child's soccer game or a special dinner with their spouse should be few. Above all, create a practice environment that is completely respectful, with no tolerance for inappropriate behavior.
More issues to address
The initiatives described above are just the start. Healthcare leaders must also address a range of challenging issues, including designing a balanced anesthesia care team model. But by creating an efficient practice environment that meets a range of provider needs, hospital leaders will lay a strong foundation for securing full anesthesia coverage.
Jeffry A. Peters is founder and chairman of Surgical Directions, a specialty healthcare consulting firm that drives lasting change in operational, clinical, and financial performance.